Reiki Classes
Small-group workshops and personal lessons are offered for learning Reiki Level I and II.
There are currently no workshops scheduled.   Check back for Spring 2018 workshop dates.  
Private lessons available, by appointment.  Call/text 828-551-4313 to schedule.
Check Facebook for updates on current workshop offerings.  Advance registration is required to reserve your spot, and can be done by phone or e-mail.  (See the Contact page.)
**My workshops are offered at a lower price than most local workshops.  My goal is to make basic Reiki skills more accessible, so more people can learn how to help themselves and their loved ones.  I also do not provide CEUs at this time.**
Workshops are 10-12 hours total, and take place Saturday to Sunday.  Pricing includes class materials, lunch, and your participation.
Personal lessons are broken into four 2-hour sessions, and do not include meals.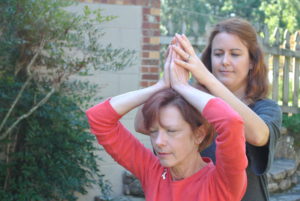 My workshops and lessons are geared toward Reiki for "home use," and are designed to empower students to provide stress relief/ promote healing in themselves and their loved ones.  Students learn a basic history of Reiki, hand positions and techniques for administering Reiki on themselves and/or others, and receive attunements which allow them to channel Reiki energy.
Reiki Level I and II certification is attained by passing a short exam at the end of the final day's lesson.
FEES:
Workshop:  $150 ($50 deposit to reserve your space, and $100 due at the time of class)  A minimum of 3 students must be registered for class to take place.  If you have provided a deposit, and class is cancelled, you can apply it to a future workshop, personal lessons, session, or receive a refund.  If you provide a deposit and choose not to attend class, your deposit will not be refunded, but can be applied to a future class, personal lesson, or session.
Personal Lessons: $400 (payable in installments, beginning at the first 2-hour meeting).   If you are interested in personal lessons for 2 people, the second registration is half price. (If they like you enough, maybe they'll share their $200 savings with you!).
If you already have a group that would like to learn Reiki together, contact me and we can discuss times or other options for personalized classes.